Linking your dbBee project and a web site made with wix
It became very common that start-ups or non-profit organizations use free or DIY (do it yourself) website systems such as wix (www.wix.com), or HostGator (www.hostgator.com), especially at the beginning of their entrepreneurship or activist project. Having in mind that every beginning is hard and that lack of money is very common at that stage, this is nothing but expected.

Same as previously mentioned and similar DIY services, we at dbBee also want to attract activists, simple people, and small business owners and entrepreneurs to burst their efforts by giving them online database related tool. Many businesses or non-profit organizations are all about data, so it is natural that our users find connecting their dbBee projects to some of these systems for building web pages very useful and logical. Let us make clear that we are in no way affiliated with any of these systems for building web sites, nor we favour or recommend any one in particular. However, for this example we choose wix, because it is very popular, free and very simple to use web site platform, and therefore very suitable to show you how to embed your dbBee project in an existing web site.
When we tested this combination we realised that medium skilled web designer can create web site and publish custom database within two hours. This also included all registration processes. Having that in mind we could assume that someone whose skills are very low can complete this task in a couple of days. Anyone who is skilled with web platform he's using can do this extremely fast. If you already have prepared or published web site this will take less than 10 minutes. Simplicity of adding a dbBee projects to any kind of independent web site was one of our main objectives.
The whole process is actually very simple.

ON WIX.COM
1. Open your existing wix web site (or start a new one)
2. Create an empty page for placing your dbBee project (Excel or Access based application), or use one of the existing pages on your web site
3. In your wix editor click the "application market" button and search for "iframe" component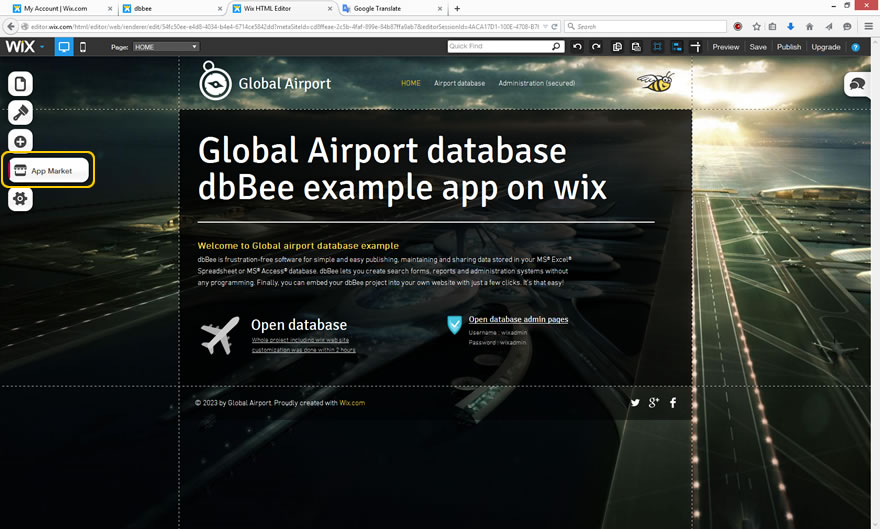 4. When found, click "add to site" button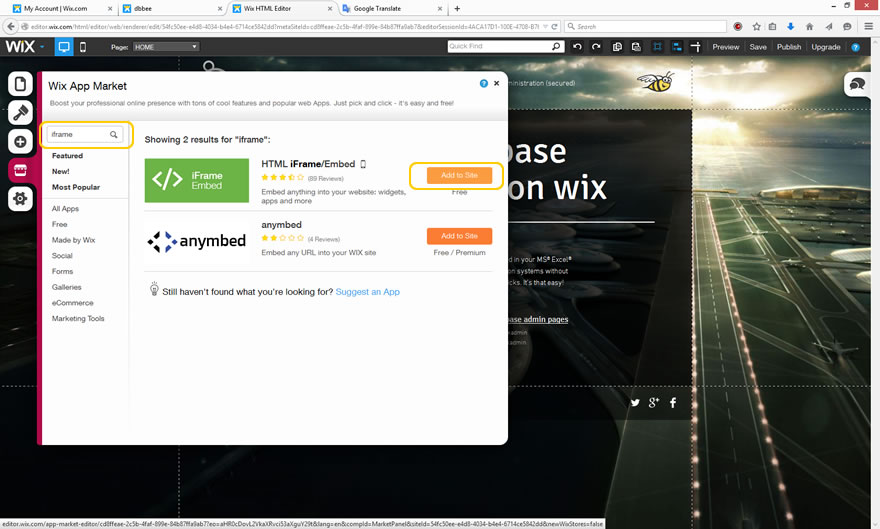 5. Adjust the size of the grey iframe container to fit your page or space planned to be used for database
6. Place the pointer anywhere over the grey iframe object and click right mouse button. Select option "settings"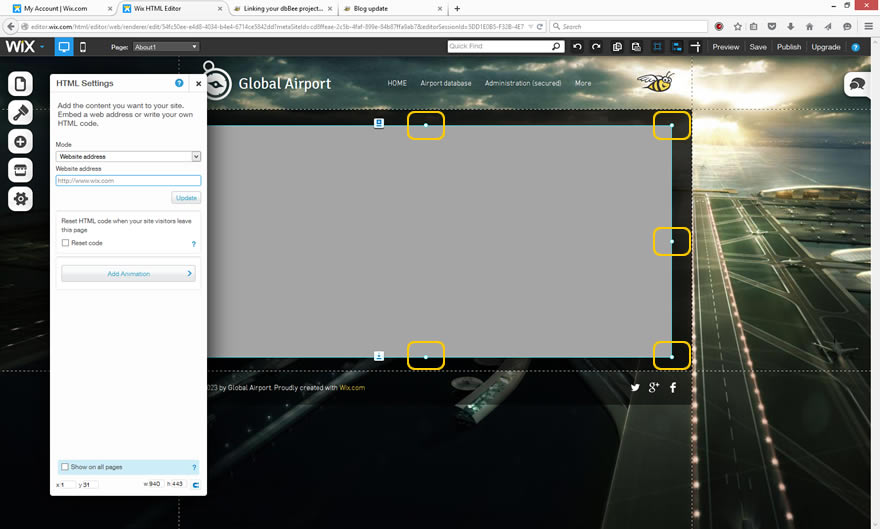 ON DBBEE.COM

7. Now, open another tab in your browser and open your dashboard at dbBee.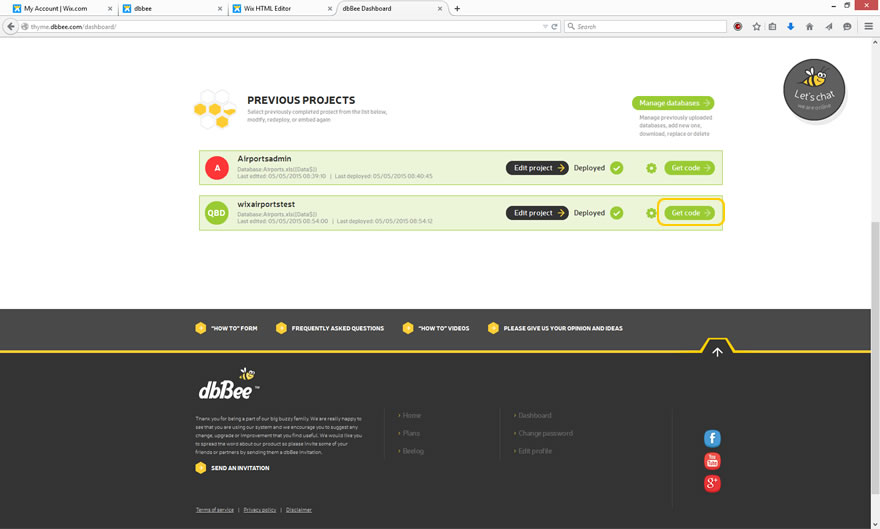 8. Click get code on previously created project or start a new project and pick the link code at the end of a process (select and copy code)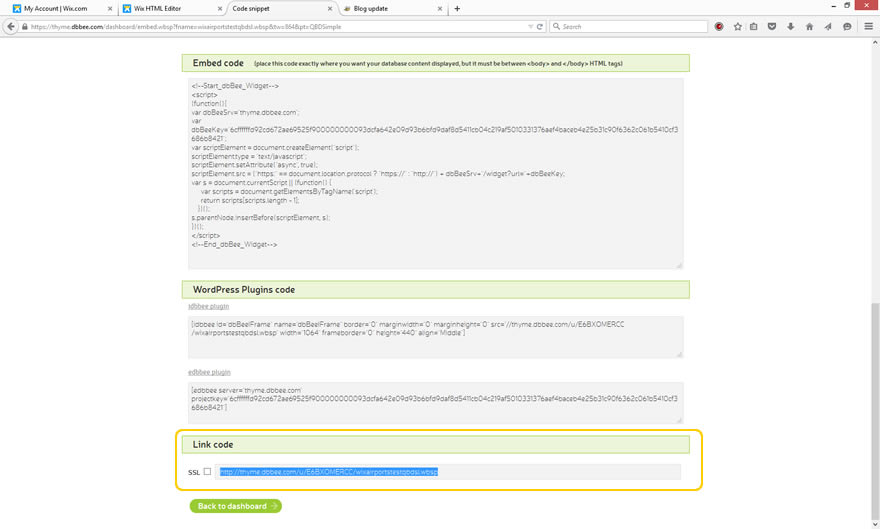 BACK ON WIX.COM

9. Paste the dbBee code in your wix editor into the "Website address" field
10. Click update and wait for 5-15 seconds. The dbBee database formatted as you did in your dbBee project will appear on your web site created with wix.
11. Click save button in wix editor, and then click preview or publish.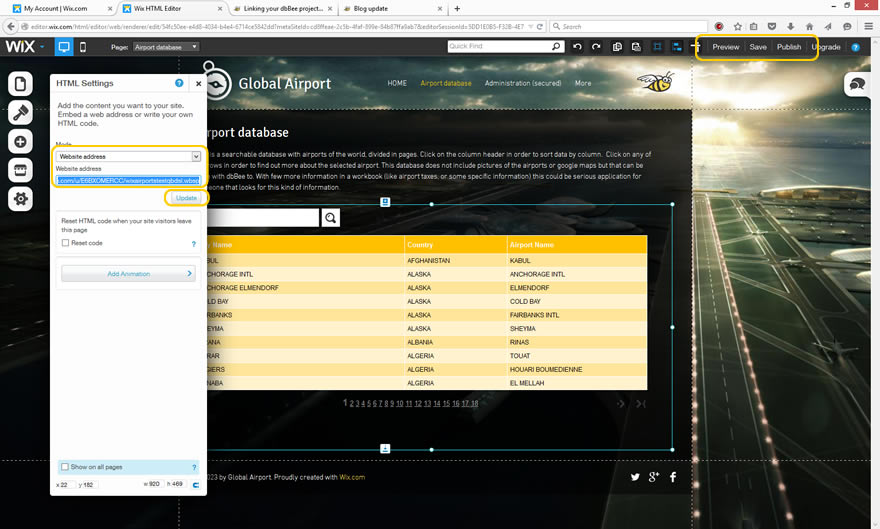 This way you can create fully functional application on wix.

If you need any help with adding your dbBee project to any kind of web site, or you need information how to embed your dbBee database project to WordPress or any other system please do not hesitate to contact us.