We're glad to inform you that on March 3rd we upgraded our SaaS servers to much faster and more powerful computers.

Also, on March 8th we launched new dbBee engine that significantly speeds up deployed dbBee projects.

Now, depending on project type, the deployed project files execute up to 8 times faster.

Project types affected by engine change are:

Query->Browse
Query->Browse->Detail
Admin
Advanced Query->Browse
Advanced Query->Browse->Detail
Advanced Admin.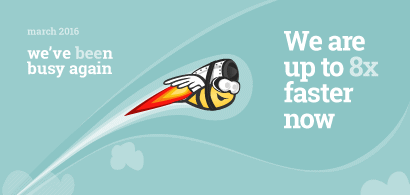 To benefit from engine update you just need to re-deploy your QB, QBD and Admin projects (click the "Edit project" button, wait for the project to load and click "Save and deploy" button).

This will rebuild the project files with the new engine and you will notice the improvement immediately.

There is no need for any changes in host pages (pages on your web site containing dbBee embed code)!
We hope you'll enjoy dbBee even more with these improvements.